Alfred Schorr, B.A., L.L.B.
Alfred Schorr is a life member of the Law Society of Ontario having practiced law in excess of 50 years, primarily in commercial litigation and insolvency law.
In March of 2019 he ceased taking on any new matters and began the transition from active litigation to mediation, arbitration and consultations.
During his years of active practice he appeared at all levels of Court in Ontario and before many administrative tribunals.  He has conducted over 500 trials including jury trials and has more than 150 reported cases where he was lead Counsel. He has also appeared in the Federal Court throughout Canada, the Tax Court, the Federal Court of Appeal and a number of times in the Supreme Court of Canada as well having appeared as Counsel in the Supreme Court of The Bahamas.
For many years he has been a favoured go to source for advice and assistance to legal practitioners.  He still remains available and is being sought out and widely recognized for the giving of advice in professional and ethical matters.  Over the years he has delivered many addresses to various legal bodies and Law Associations and has participated in presenting a number of CPD accredited programs.
Professional Associations
Alfred is a life member of the Toronto Law Association and the York Region Law Association.
He is also a former President of the York Region Law Association (2009-10) and remains as a Board Member.
For over 9 years he was a Board Member of CDLPA (now Federation of Law Associations) as Central East representative and more recently as an Executive appointee and Chair of the Paralegal Committee (2009-2018).
Legal Career
Alfred's career has been very comprehensive; originally as a criminal defence Counsel, later in the Federal Court in trademarks, copyright and patent matters and in the Tax Court, all while having a very active civil litigation practice, including bankruptcy and insolvency matters and before administrative tribunals.  He has frequently appeared as Counsel before administrative tribunals dealing with professional regulatory bodies involving pharmacists, teachers, real estate brokers, and agents, mortgage brokers and agents, accountants, immigration consultants, lawyers and paralegals.  He has also appeared before the Ontario Municipal Board, the Residential Tenancies Tribunal and the Human Rights (Ontario) Tribunal and has also appeared before the Patent Medicine Prices Review Board.
Professional Qualifications
Bachelor of Arts degree from University of Toronto in 1964;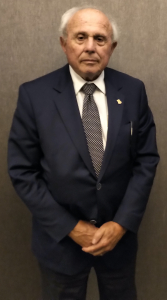 Alfred Schorr, B.A., L.L.B.
SPECIALIZATIONS
Commercial Litigation
Employment
Insolvency Law
Bankruptcy
Trademarks
Copyright
Patents
FOR APPOINTMENTS
Contact Marjorie Coe
Coe ADR Management
617 – 7 King Street East
Toronto, Ontario
M5C 3C5
Tel 416-363-2977
Toll free 1-844-547-2977
Fax 416-703-4597
Cell 416-805-8555
mcoe@rogers.com
www.coeadrmanagement.com