Stan G. Fisher, K.C. 
Stan Fisher, K.C. is recognized as one of Canada's top tier Commercial Arbitrators and Mediators. Since 2012 he has practised solely as an Arbitrator and Mediator dedicated to assisting the legal profession, corporate entities, government agencies and others in the resolution of disputes both domestically and internationally.
Prior to becoming a Neutral in Alternative Dispute Resolution, Mr. Fisher was a Leading Counsel for two of Canada's most prominent law firms where he was in demand for his expertise in commercial law. He represented clients in all levels of courts in Ontario and the Supreme Court of Canada as well as in numerous large-scale arbitrations and mediations.
PRACTICE FOCUS AND HIGHLIGHTS
As a Neutral, Mr. Fisher has regularly been appointed as a Mediator or Sole Arbitrator and as Chair or party nominee on a broad range of complex commercial disputes including corporate contractual issues; construction and real estate disputes; shipping and marine matters; shareholder claims; and mortgage remedies.
Other specializations in arbitration and mediation disputes are listed on the side bar herein
In 2015, Mr. Fisher was appointed to a five year term as one of two Canadian Arbitrators serving as Canada's nominee to adjudicate disputes between parties involved in the new Windsor-Detroit Bridge project – a significant public /private project between the State of Michigan and the Government of Canada.
REPRESENTATIVE RETAINERS AND APPOINTMENTS
International arbitration involving grain elevators
Arbitration involving ethanol
Arbitration involving shareholder dispute
HONOURS AND PROFESSIONAL RECOGNITIONS
For several years Mr. Fisher has been recognized by Chambers Global: The World's Leading Lawyers for Business. He appears in the inaugural edition of Chambers Canada, 2016 and is recognized as a leading practitioner in Arbitration. He is described as "very efficient, fair-minded, gracious, and accommodating" and "well-respected for his domestic practice acting as a mediator and arbitrator on a wide-range of commercial disputes."
He has been peer reviewed for arbitration, mediation and other forms of Alternative Dispute Resolution in Lexpert/American Lawyer Guide to the leading 500 Lawyers in Canada, The Canadian Legal Lexpert Directory and The Best Lawyers in Canada. He has enjoyed an exemplary career in commercial litigation for over 55 years.
2009: Mr. Fisher was the inaugural recipient of the Catzman Award for Professionalism & Civility, awarded by The Advocates' Society and the Chief Justice of Ontario's Advisory Committee on Professionalism
I975: Appointed Queen's Counsel, Ontario
Awarded AV Pre-eminent Peer Rating 5.0 –the highest possible rating for legal ability and ethical standards by Martindale–Hubbell
PROFESSIONAL ASSOCIATIONS AND OTHER ACTIVITIES
Member of the Advocates' Society
Member ADR Institute of Ontario (ADRIO)
Toronto Commercial Arbitration Society (TCAS)
1998: Fellow of the American College of Trial Lawyers
Past Chairman, Class Proceedings Committee of Ontario
Past Chairman, University of Toronto Discipline Tribunal
EDUCATION AND PROFESSIONAL QUALIFICATIONS
1961: Called to the Bar of Ontario
1959: University of Toronto Faculty of Law, Bachelor of Laws (LL.B.)
1956: University of Toronto, Bachelor of Arts (B.A.)
Harvard Program on Negotiation, Negotiating Skills Executive Course
PROFESSIONAL BACKGROUND AND AFFILIATIONS
2016: Arbitrator and Mediator, COE ADR MANAGEMENT
2012: Member Arbitrator and Mediator, Arbitration Place
1995-2012: Heenan Blaikie LLP
1961-1995: McMillan LLP
1961-1962: Law Clerk to the Chief Justice of Ontario and Court of Appeal for Ontario
FOR APPOINTMENTS
Contact Marjorie Coe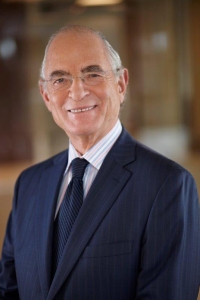 Stan G. Fisher, K.C.            
SPECIALIZATIONS
General Commercial Disputes
Construction
Procurement
Corporate Remedies
Technology
Intellectual Property
Professional Negligence
Maritime Law
Real Estate and Land Related Transactions
Estates Disputes
International Trade Disputes
Municipal Agreements
Valuable Art Dispute
FOR APPOINTMENTS
Contact Marjorie Coe
Coe ADR Management
617 – 7 King Street East
Toronto, Ontario
M5C 3C5
Tel       416-363-2977
Toll Free   1-844-547-2977
Fax      416-703-4597
Cell      416-805-8555
[email protected]
www.coeadrmanagement.com